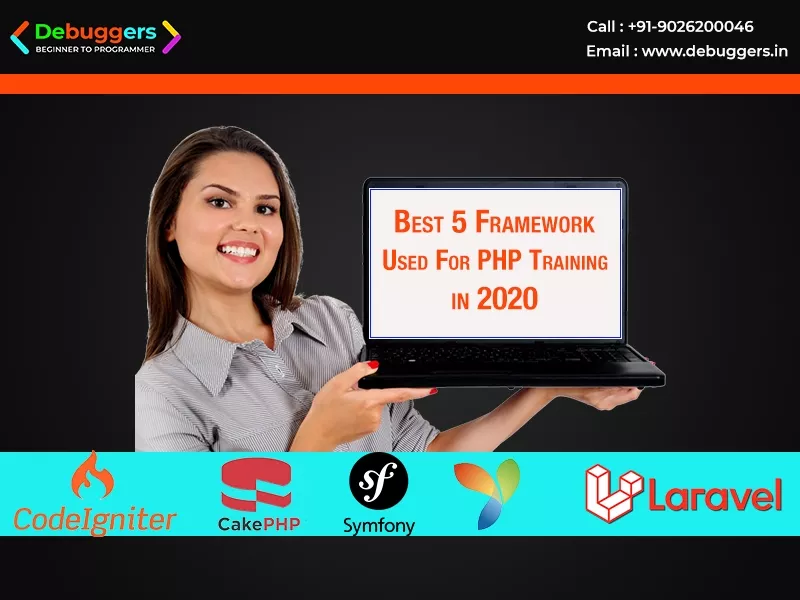 Top 5 PHP framework
here is the Top 5 PHP Framework of 2022 to implement a new website and application.
By, Admin, 23/03/22
Hello Folks,
Today we will discuss with you which PHP framework is reliable to secure your future and which one is easy to use?
PHP Programming is the extremely sought-after scripting language for backend web development.
Why PHP has adjourned its capacity as the best server-side scripting language is its make advanced frameworks?
PHP is a general-purpose-web-oriented programming language genuinely designed for web development, generally helping developers to create web applications.
Simply say in another world, they endow you with a backbone for the application which can be agreeable to match your necessity and exigency.
Currently, in practice, different types of frameworks namely Laravel, CodeIgniter, Symfony, and others are to formation your web development more adept, reform scalability, sure durability and safety, and prevent repetitive code.
Laravel:-
Laravel is the best and popular framework yet because it's able to handle difficult web applications with extra security and speed in comparison to other frameworks. Laravel is a free, open-source PHP Laravel framework released in 2011 and created by Taylor Otwell.
Why developer is the first choice to use the Laravel framework?
Because it handles complex web applications with additional security, reducing the complexity of common tasks, namely session creation, routing, and authentication.
CodeIgniter:-
CodeIgniter is basically known for a very small footprint, open-source web development framework build for developers who required an easy well-looking toolkit to generate a full-featured website with PHP.
CodeIgniter is a foolproof and easy PHP framework that is simply installed. According to the official website handling the simple setup process and advance explained documentation to best for beginners.
If you want to develop a lightweight application to run on a server, CodeIgniter is best for you because it's run faster, better performance to others.
Symfony:-
The Symfony framework was launched in 2005 and released under MIT License. It is a large community of developers to fillip their technology careers.
The development team of symphony worked on training modules in different tongues and continuously updated their advanced features whereby the understanding of the environment is easy to use.
Symphony is also large elastic and can constitute major projects.
Symphony framework practices reusable PHP libraries which make various developmental jobs a lot easier such as form creation, routing authentication, and many more.
Yii 2:-
Yii is the chronic open-source, object-oriented, component-based MVC PHP application Framework. Instead, an international team of developers endow the boost up and proficiently make large scale and modern web development requirements.
When the developer needs results fast and supported powerful caching then mostly used Yii 2.
Yii2 supports verities of functionalities like avoiding the complexity of writing SQL queries on a repetitive basis, easily maintainable web applications.
Cake PHP:-
CakePHP is the toolkit that helps you to develop impressive, simpler, faster services. CakePHP is an open-source web framework easy to uses a variety of features like request handling, session, cookies, security, and emails.
CakePHP is basically for commercial applications due to security features that include SQL injection prevention, input validation, cross-site request forgery(CSRF) protection, and cross-site scripting(XSS) protection.
CakePHP framework is major benefits like cost saver, being easy to use, flexible, compatibility, and open-source.